Our mission is to work in collaboration with our community to protect life and property, while enhancing the quality of life in our city. This shall be accomplished through the creative use of resources, community education and involvement and mutual respect within our department and our city.
Mission: As members of our diverse community, we selflessly serve as guardians with empathy, fairness and respect, to protect life, prevent crime and enhance quality of life.
Vision: The Pleasanton Police Department will always be a model of excellence and a leader in the law enforcement profession.
Service
We remain committed to providing exceptional service to our community.
Courage
We will stand up for what is right, persevere through adversity and confront danger when called upon.
Leadership
Initiative, ownership and creative problem solving are fundamental qualities valued at all levels of our organization.
Safety
We will preserve a safe community through balance of traditional and contemporary law enforcement strategies while maintaining a commitment to the safety and wellness of all employees.
Teamwork
Our shared success can only be accomplished through collaboration with our community and each other because our diverse backgrounds, skills and beliefs make us better together.
Department Structure
The City of Pleasanton has a five-beat system for deployment of personnel to ensure response time goals of under 4:00 minutes for emergency calls and under 20:00 minutes for non-emergency calls. Five full-time equivalent employees are required to staff one beat for the entire year.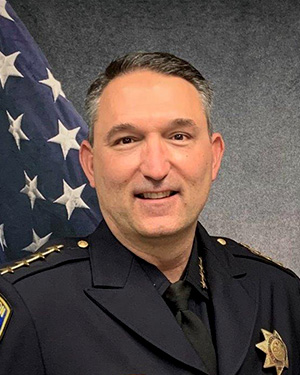 Chief David Swing
Police Chief
Chief David Swing brings over 25 years of demonstrated law enforcement and leadership experience to Pleasanton. He has a proven track record of strategic budget management, commitment to community engagement and personnel development and has been a pioneer in deploying new law enforcement technology to meet the complex challenges of a progressive community like Pleasanton. 
Chief Swing previously served as the Police Chief of Morgan Hill for nine years. While serving as Chief, Swing also served as president of the California Police Chiefs Association where he actively engaged state legislators and successfully influenced legislation impacting California law enforcement agencies.
Swing began his career in law enforcement as a reserve police officer with the Morgan Hill Police Department in 1995 and rose through the ranks to police officer/recruit and traffic officer, police corporal, sergeant, commander and was named chief in 2011.
Chief Swing received his bachelor of arts degree and master's in public administration from San Jose State University and is a graduate of the POST Command College. Additionally, he holds a certification as a POST Executive and is a regular instructor at the South Bay Regional Public Safety Training Consortium teaching a management course focusing on budget, strategic planning and succession planning.
Critical Incident Investigations
The Pleasanton Police Department is committed to thoroughly investigating any critical incident involving our officers. The reports that are available on the links below and body-worn camera footage are difficult to read and watch. The goal in releasing this information is that the content be handled responsibly and that it demonstrates the depth of the department's internal and external review to help address any questions about the cases presented.
In Alameda County, there are two separate investigations of officer-involved incident: criminal and administrative. The Pleasanton Police Department and the Alameda County District Attorney's Office run independent, parallel criminal investigations. The Alameda County District Attorney's Office is responsible for the criminal investigation which determines if any laws were violated. The administrative investigation is conducted by the Pleasanton Police Department under the supervision of the division commander and reviewed by the chief of police to determine if the officers' actions were within department policy.
For each of the three cases, presented are the criminal investigation report, the administrative investigation report,
the body worn camera footage and the Alameda County District Attorney's final report.
Incident #22-5639
Incident #18-30256
Incident #17-18194
Incident #15-24571
Police Department Budget
The Pleasanton Police Department is budgeted for 118.5 full time positions. 83 peace officers and 35.5 professional support positions, such as public safety dispatchers, records personnel, an animal control officer and community service officers.
Policing provides safety services 8,760 hours per year; the average full-time employee (FTE) works 2,080 (non-overtime) hours per year. As such, personnel costs represent 89% or $25,287,998 of the $28,427,946 police department budget. 
To view the full two-year Police Department budget by division, turn to page 123 of the City's FY 2023/24 and 2024/25 Operating Budget.