Doing Business in Pleasanton
Pleasanton's small town ambiance is accented with a metropolitan edge that offers residents and businesses a long list of amenities that are hard to compete with. Infrastructure to suit contemporary business needs, proximity to major business markets, a highly educated population and workforce and high-value, cost-competitive space support the more than 4,000 companies–Fortune 500 members, regional administration offices and innovation small businesses alike–that are earning recognition and capital investment across industry sectors.
The Economic Development Department provides business assistance services designed to help guide companies. From application to approval to completion, we offer programs to assist and work with you to get your business open. If you already have a business, we are here to support your success.
Starting a Business
Start your business in Pleasanton, California and unlock the potential for success in a vibrant and dynamic community. Don't miss the chance to thrive in a strategic location with a strong economy and a supportive business environment. Get started today and turn your business vision into reality!
Business License
The City of Pleasanton requires any person conducting business in the city to obtain a business license. This includes any business using a Pleasanton address for advertisement, or state or federal licensing, even if the business is done offsite.
Need to get or renew a business license?
The City works closely with organizations in supporting the needs of its commercial enterprises with more than 53,000 employees in Pleasanton's thriving business community.
The City of Pleasanton values its business community and celebrates national, regional and local business promotions throughout the year.
The City recognizes that starting and growing a business takes a variety of resources. Economic Development Department staff can assist in identifying organizations and agencies that address the needs of a company.
Available Commercial Space
Pleasanton's progressive commercial environment provides a range of real estate offerings to accommodate a mixture of established and emergent industry clusters and is conveniently located near freeway exits, major roadway arterials and transit.
City Bids
Don't miss out on exciting opportunities to collaborate with the City of Pleasanton. Explore our current bids and be part of innovative projects that shape the future of our community.
For more information, visit our Bids page.
Businesses Celebrating Anniversaries in Pleasanton
Join us in celebrating a fantastic lineup of Pleasanton businesses reaching milestone anniversaries! From small startups to established enterprises, these remarkable achievements showcase their dedication and success.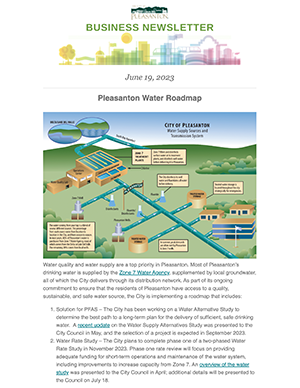 Business Community Newsletter
Sign up to receive our newsletter for residents, business owners and friends of the Pleasanton community to know about activity and trends influencing economic development in the city.
Economic Development Manager, Lisa Adamos
(925) 931-5039
123 Main Street
PO Box 520
Pleasanton, CA 94566 
Phone: (925) 931-5042
IN PERSON: Monday – Friday: 9 a.m. – 4 p.m.
BY TELEPHONE: Monday – Friday: 8 a.m. – 5 p.m.
Contact us by filling out the form below: