Utility billing includes applicable water, sewer, irrigation and recycled water charges. The City of Pleasanton purchases its water supply from Zone 7 Water Agency. The cost of purchasing water is set by Zone 7 Water Agency and is passed through to City of Pleasanton water customers.
The City also collects fees for sewer services provided by Dublin-San Ramon District (DSRSD) and City of Livermore. Local Pleasanton sewer rate charges are for sewage collection services. Regional DSRSD and City of Livermore sewer rate charges are for sewage treatment services. These rates are set by DSRSD and City of Livermore and are passed through to City of Pleasanton sewer customers.
Please contact a Customer Service Representative at (925) 931-5500 if you have any questions or concerns. Office Hours are 7 a.m. – 4 p.m. We are located at 3333 Busch Rd.
Find out more about the Utilities Division.
Pay My Bill
Auto Payment

Contact the Customer Service staff to set up auto payment with your checking or savings account. Please have your routing and bank account number that can be found at the bottom of your check. Auto Payment is completed 10-14 days after the issuance of your billing statement.
Online

*You do not need to log in or be registered to us the Pay Bill feature on SEW. You will need your account number and customer number.

If you need further assistance accessing the portals, please contact the Customer Service Center at (925) 931-5500 or contact us.

Smart Energy Water System (SEW) Customer Portal

Citizen Self Service Portal
By Mail

City of Pleasanton
Attention: Utility Billing
P.O. Box 101732
Pasadena, CA 91189-1732 

Please note: this is the Payment Processing Center address
By Phone

Payments accepted: Credit or Debit Cards with Visa or Mastercard logo only

(925) 931-5500, option 1, 24 hours/7 days. 

You will need your account number and customer number.
In Person

Payments accepted: Cash, Check, Visa, MasterCard or Discover 

Public Works Department
3333 Busch Rd.
Drop Box

Payments accepted: Check only

Public Works Department 
3333 Busch Rd.

or

City Hall
200 Old Bernal
Start or Stop Services
Please call the Public Works Department at (925) 931-5500 to start or stop your water and sewer services.
There is a $15 service fee to set up an account. New residential customers without any prior water account history with the City of Pleasanton will be subject to a refundable $200 deposit that will be charged on the first bill. The refundable deposit charge for new commercial and irrigation accounts is $300 and multi-family residential customers is $700. The deposit will be applied to your account if it is in good standing for 1 year or if you move out, it will be applied to your final bill and any overage will be refunded to you.

For questions about Garbage Services, please visit their website, call (925) 846-2042 or visit them in person at 3110 Busch Rd. 
The Public Works Department does not process payments for Garbage services.
Providing a drought-proof source of water that can be used for landscape irrigation, instead of drinking water. Saving approximately 450,000,000 gallons of potable water each year!
The City of Pleasanton operates and maintains a water distribution system to deliver water to city residences and businesses, as well as for other uses such as firefighting.
How often you are billed?

The City of Pleasanton collects water meter reads approximately every eight (8) weeks to calculate charges for water usage for customer's bi-monthly water bill. The City is geographically separated into eight (8) sections or billing groups in order to effectively collect reads on a weekly basis. The schedule typically fluctuates between 56 and 63 days. Utility bills include applicable water, sewer, irrigation and recycled water charges. 
Turning off water for a repair

Please contact the Customer Service Center at (925) 931-5500 approximately 1-2 hours in advance to have a Utilities Division representative visit the home and turn off the water at the meter. We respectfully request that you do not attempt to turn the water off at the meter, as the unit belongs to the City of Pleasanton and any costs to repair damage to the meter or its supporting structures will be the responsibility of the property owner.
How to read your utility bill
How to read your water meter
How to detect water leaks

To detect a water leak, please begin at your water meter. To see how to use your water meter to detect leaks, please see:

Indoor and Outdoor Leaks
How to sign up for leak alerts
Discounts Available

Currently, the City of Pleasanton offers two discounts to water customers:

Low Income Discount – 30% discount on Pleasanton charges for those customers currently participating in PG&E's CARE Program*
*Proof of Enrollment in PG&E CARE Program required (Copy of Bill)
Senior Discount – 20% discount on Pleasanton charges for those customers who are primary account holders and 65 years* of age or older.
*Proof of age required (Driver's License or ID Card)

Discounts are applied towards the customer's account from the date that our office is notified of eligibility.
These discounts are applicable for each billing cycle when water consumption does not exceed 30 units. Only one discount can be applied per customer account.

To learn more about the discount programs the City offers to Senior or Low Income households, view our COP Discounts.
Assistance Paying Your Utility Bill

If you need assistance in paying your utility bill, please click this link to see if you are eligible and apply.
Who is the Zone 7 Water Agency?

Zone 7 is a public agency with elected board members that is responsible for supplying treated drinking water to retailers serving approximately 220,000 people in Pleasanton, Livermore, Dublin and, through special agreement with the Dublin San Ramon Services District, to the Dougherty Valley area. They also supply untreated water for irrigation of 3,500 acres, primarily South Livermore Valley vineyards and provide flood protection to all 425 square miles of eastern Alameda County.

Mailing address:
100 North Canyons Parkway, Livermore, CA 94551

General phone number:
(925) 454-5000

Website:
www.zone7water.com
Is there a leak adjustment or credit available to residents?

Review the requirements and if you qualify, please submit the Utility Bill Leak Adjustment Request form to the Customer Service Center. 
Current Rates - 2023-2024 Sewer Rate Info
Current Rates - 2023-2024 Water Rate Info
Water & Sewer Rate Archives
Automated Metering Infrastructure (AMI)
The City of Pleasanton uses an Automated Metering Infrastructure (AMI) in most homes or businesses! Here is some background on AMI:
What is AMI? Automated (also known as Advanced) Metering Infrastructure is the latest technology in the evolution of the outdated and inefficient "manual read" technology, which is where a meter reader comes to a house or business and manually reads a water meter.
Specifically, the City of Pleasanton replaced older commercial and residential water meters (which currently account for roughly 80 percent of all meters) with new ones in 2016; Meter Transmission Units (MTUs), which collect water data every hour, were installed at most households and commercial sites. There are 16 Data Collector Units (DCUs) to transmit this data to the cloud-based computer system.
Most importantly, the City of Pleasanton, through its Public Works Department, has a customer web portal, which allows all water users to access their water consumption data from any smart device or computer; allows customers to set notifications via text or email for abnormal usage alerts to help keep customers informed about excess water usage or potential leaks in the system.
Click here to login or register.
If you have any additional questions or concerns, please contact the Customer Service Center at (925) 931-5500.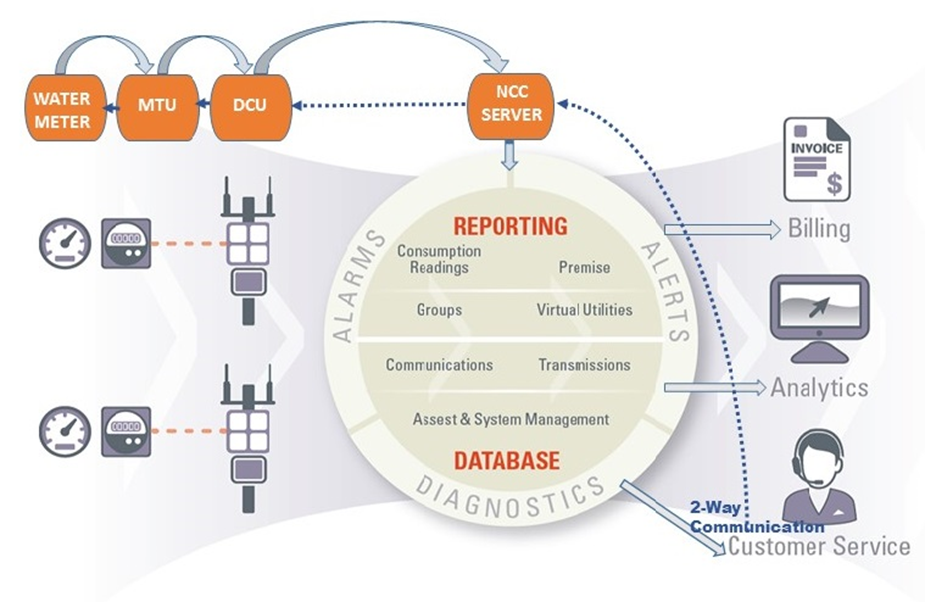 How does the automated meter system work?

The City uses the Aclara Fixed Network AMI STAR® System, using a wireless fixed network system that has three components:

Meter Transmission Unit (MTU): This radio unit is connected to each automated water meter and collects the customers meter reading each hour. Every six hours, it sends its information to a Data Collection Unit (DCU)
Data Collection Unit (DCU): A total of 16 Data Collectors are located throughout the City on City-owned facilities and City-owned poles. The DCU's collect the hourly meter readings from the MTU and transmit the meter readings to the City's meter reading database.
City Metering Database: The City's billing system uses this information to calculate the amount of water used and create bills. The data collected daily in the meter reading database is made available to Customers through the Customer Web Portal.
Every automated meter in the City collects a meter read every hour which is time stamped. Four times per day, the hourly reads are received by several collecting units throughout the City. The collection units transmit the time stamped meter reading by a secure wireless network to the City's customer service center meter reading system.
Is the Automated Meter System secure?

The City maintains the confidentiality of our customers' information in accordance with appropriate privacy policies. Automated meters do not transmit any Personally Identifiable Information. Only the meter serial number and meter read are transmitted.
Do Automated Meters emit dangerous levels of radio frequency?

Automated meters do not emit dangerous levels of RF. In fact, RF emissions from an automated meter fall far below federal limits. The RF exposure a person might encounter from an automated meter in a typical household setting can be of significantly less strength than the RF signals they are exposed to from common electronic devices found within the home, such as cell phones, microwave ovens, baby monitors, Wi-Fi networks and radio and television broadcasts. All equipment operates in compliance with state and federal communication standards.
What are the health impacts of RF and Automated Meters?

Scientific panels and government authorities throughout the world have conducted numerous studies about the effects of RF on human health and found no evidence to suggest that RF emissions from automated meters pose any specific health risk.
Do Automated Meters use radio frequency regulated by the FCC?

Yes. These frequencies are called industrial, scientific and medical (ISM) radio bands. The FCC designates the ISM frequency bands for equipment and appliances that generate and use RF energy. The FCC opened these frequency ranges for wireless communications in 1985 and, since then, experienced a steadily increasing stream of devices occupying the bands.