Decisions to close due to unsafe air quality will be made using Airnow.gov. We will close if the airquality index reaches a level of 151 or higher.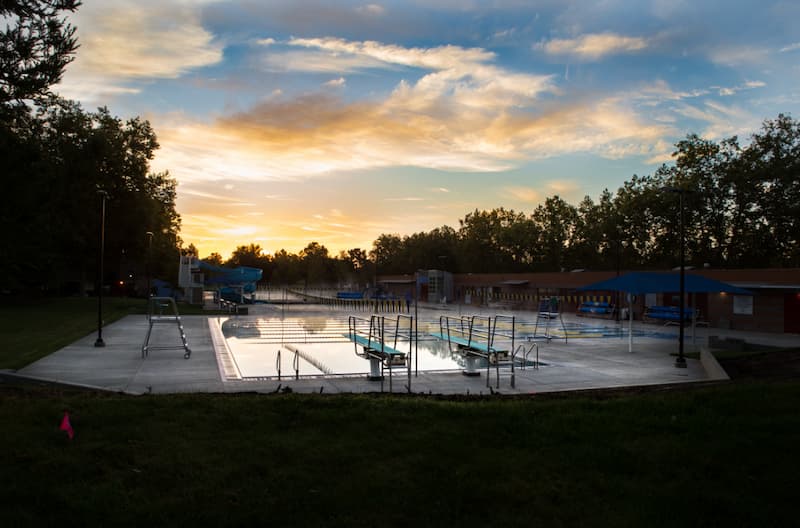 The Dolores Bengtson Aquatic Center (DBAC) is Pleasanton's premier aquatic facility.
Features
50-meter Olympic-size pool
Shallow pool with waterslide
25-meter 'L-shaped' lap pool with attached diving well and two 1-meter diving boards
Areas for picnics and lounging poolside
Pools heated to 80 degrees, year-round
ADA Accessibility
Locker room with lockers that can be used if you bring your own lock (daily use only) and shower facilities
Plenty of parking.
Information
Click here
to view our hours and closure dates or to contact us for more information.
Certifications & Employment
In addition to a variety of recreational and fitness programs, the Dolores Bengtson Aquatic Center offers Red Cross certification courses.
Adult and Pediatric First Aid/CPR/AED
Ages 12 and up
Become certified in American Red Cross adult and pediatric first aid, CPR and AED. Learn the skills you would need to respond appropriately to cardiac, breathing, and first aid emergencies so you can save a life! 
This course will include lecture, videos and hands on practice. You will also be provided with your own keychain breathing barrier and a $35 certification.
Certifications last for two years from the course date.
Lifeguarding
Ages 15 and up
Get a jump start on your future by training to be a lifeguard! This course is a blended learning opportunity which allows students to have in-person water, first aid and CPR/AED skills training paired with online learning sessions.
Note: Class times do not reflect online learning sessions. Course prerequisites: Ability to swim 12 continuous laps, tread water for 2 minutes, retrieve a 10 lb. brick from 10 ft. of water and swim 15 yards with the brick held above water.
Water Safety Instructor (WSI)
Ages 16 and up
Upon successful completion of this course, students will be qualified to teach American Red Cross Learn-to-Swim courses and issue corresponding certifications. This course is a blended learning opportunity which will allow students to have in-person water training paired with online learning sessions.
Note: Class times do not reflect required online learning sessions. An additional $35 non-refundable fee, payable to the American Red Cross will be due following the first class session.
Course prerequisites: Successful completion of Red Cross Level IV Learn to Swim Class, 1 minute back float, 1 minute of treading water.
Lap Swim
Experience the amazing health benefits of lap swimming in our 50-meter pool (heated year-round). All ages are welcome; however swimmers must be deep-water safe and able to swim the width of the pool without stopping. Lanes may be assigned, and lane sharing is required. Spectator fees apply to all who plan to watch from within the aquatic facility. Personal coaching is strictly prohibited.
Drop-In Hours
Monday / Wednesday Mornings
6 a.m. – 10 a.m.
 Friday Mornings
7 a.m. – 10 a.m.
Mon – Fri Mid-day
11 a.m. – 1 p.m.
 Halloween Day
11 a.m. – 1 p.m.
Mon – Thurs Evenings
5:30 – 8 p.m.
Saturdays, Sundays & Holidays
8 a.m. – 11 a.m.
 Holiday Hours Dates
5/29, 7/4, 9/4
 Pool Closed
1/1, 1/2, 1/16, 2/20, 3/4-3/5*,
4/9, 4/15-4/16*, 11/3, 11/5, 11/10, 11/23,
11/24, 12/22-12/25

*DBAC will be closed due to hosting PLS swim meet.
Drop-In Prices
Adult (18-59)
$6.00
Youth (<17) / Senior (60+)
$5.00
 Spectator
$4.00
Lap Swim Memberships
 

Adult (18-59) 

Senior (60+) / Youth (<17)

Spectator

15 Swim Pass

$84R / $89N 

 $70R / $74N

N/A 

45 Swim Pass

$240R / $264N 

 $200R / $220N

N/A 

Semi-Annual Pass

$390R / $429N 

N/A 

Annual Pass

$624R / $686N 

N/A
Camps and Classes
For more information on camps check our current 
Activities Guide
.
Longfellow's Whales Tales Swim Camp
Spend your summer beating the heat and having a whale of a time learning personal water safety and healthy lifestyle habits that you will carry with you for the rest of your life! Activities include arts, crafts, games, water safety lessons, recreational swimming, and even visits to local parks. For ages 6-9.
Spaquatics Camp
Come join the aquatic staff for a fun filled week of sports and swimming! Campers will enjoy arts and crafts, free swim, and a daily 30 minute instructional swim lesson held at the Dolores Bengtson Aquatic Center, along with sports and games held at the Amador Valley Community Park. For ages 9-12.
Junior Lifeguard Camp
Get a start in the aquatics profession by learning about lifeguarding. Gain valuable job skills while having fun with your friends at the pool. This course includes elements of American Red Cross Junior Lifeguarding course, which teaches basic lifesaving technique, but does not provide a lifeguard or CPR cert. Students will also learn swim instruction methods and class management techniques to use when aiding a swim lesson. This program is a requirement for those wishing to volunteer at the aquatic center this summer. For ages 12-14.
Junior PADI Scuba Camp
The PADI Seal Team is an exciting introduction to the world of scuba diving! This structured program gives youngsters a chance to learn about aquatic environment and experience adventure underwater! This is an excellent way to introduce kids to SCUBA diving prior to a full Open Water Diver certification. A $125 supply fee is due at the time of registration. For ages 8-12. Camp is offered by Dive 'n Trips Staff.
Recreational Swim and Special Events
Recreational Swim runs Memorial weekend through Labor day weekend. For more information check out our current Activities Guide.
Spring Egg Drive
Join us for Pleasanton's 2nd annual egg dive! Celebrate the arrival of spring and join us on the hunt for sunken eggs, games and activities! Pre-registration is required.
Activities include:
Egg hunt and dive (all ages)
Lawn games
Face painting
Meet & Greet with Bubbles the Bunny
Snacks
Date: Saturday, March 23, 2024
Time: 1 – 3 p.m.
Price: $12 General Admission, $4 Spectator (paid at entry). 
Registration: Register here and use the following code: 8855.
Swim Lessons
The Dolores Bengtson Aquatic Center, in collaboration with the American Red Cross Learn-to-Swim program, offers swim lessons for youth, ages 6 months and up. Below, find the skills taught at each level. They should be used to help determine the most appropriate placement for your child. Adult/Teen, classes are also available. Course dates and times vary by season.
American Red Cross Swim Lesson Levels
Saturday Lessons
Come join our Saturday swim lessons! These single day classes are based on the American Red Cross Parent/Child Aquatics, Preschool Aquatics, Learn-to-Swim, and Adult Swim programs. These lessons are a great way for your child to get some extra practice on those skills they need to advance to the next level or become more comfortable in the water!
Water Exercise
Water exercise classes support the body and reduce the risk of muscle or joint injury through the buoyancy of water and mitigation of gravity. We offer two types of water exercise classes, one in shallow water and one in deep water. Participants may enter water up to 5 minutes before the start of the class, as long as a lifeguard is on deck. Pools are heated year-round. 
Shallow Water Workout (M/W/F Mornings)
A high intensity shallow-water aerobics class designed for intermediate to advanced exercisers to strengthen and tone muscles, and improve cardiovascular fitness. Includes interval, circuit and resistance training using hand buoys, elastic tubing and water goggles.
Deep Water Workout (M/W/F Mornings & M-Th Evenings)
A challenging aerobic workout in deep water utilizing interval and resistance training to develop cardiovascular fitness, muscle strength, endurance and flexibility. Note: this class is held in deep water and although buoyancy equipment is worn, participants should feel comfortable in deep water.
Hours
Monday / Wednesday / Friday (25m Pool) – Instructor Available
6:15 – 7:10 a.m.
Monday / Wednesday / Friday (25m Pool) – Instructor Available
7:30 – 8:25 a.m.
Monday / Wednesday / Friday (50m Pool) – Instructor Available
8:45 – 9:40 a.m.
 Monday – Thursday (25m Pool) – Instructor Available
5:30 – 6:25 p.m.
No Class
5/29, 7/4, 9/4,
10/31, 11/3, 11/10, 11/22-
24, 12/22-1/1
Daily Admission
Non Instructor-Led Classes (Equipment provided)
Instructor Led Classes
 $5.00
$10
Water Exercise Memberships
15 Visit Pass
$140R / $149N
45 Visit Pass
$402R / $442N
Party and Pool Rentals
The party area is available for rental during our public recreational swim hours and will include use of the two recreational pools, waterslide, diving boards as well as the spacious lawns and deck. The rental includes 4 picnic tables and easy-up canopies.
For more information, please view this flyer.
Swim Teams
For information on community swim teams, see below:
Dolores Bengtson Aquatic Center
4455 Black Avenue,
Pleasanton, CA 94566 
(925) 931-3420
| | |
| --- | --- |
| Monday / Wednesday Mornings | 6 a.m. – 1 p.m. |
| Friday Mornings | 7 a.m. – 1 p.m. |
| Tuesday / Thursday Mornings | 11 a.m. – 1 p.m. |
| Monday / Wednesday Evenings | 5:30 p.m. – 8 p.m. |
| Tuesday / Thursday Evenings | 4 p.m. – 8 p.m. |
| Saturday / Sunday | 8 – 11 a.m., 1 – 5 p.m. |
| Office Closed | 11/3-11/5, 11/10, 11/23-11/24, 12/22-12/25, 1/1, 1/15 |
Closure Dates: 2023/24 Swim Meet Calendar
Contact us by filling out the form below: