Pleasanton residents love their pets and their wildlife, so it is easy to understand why The Pleasanton Police Department receives thousands of animal related calls each year. Our Animal Services Officers (sometimes referred to as Animal Control Officers) serve Pleasanton's four-legged residents and their owners through education, patrol and enforcement.
Animal Service Officers enforce the Pleasanton Municipal Code (things like leash law and licensing), respond to animal complaints and investigate reports of neglect or abuse. They may impound sick or injured pets or wildlife, quarantine biting animals and often pick up dispose of dead animals. These duties (and many more) help keep people, pets and wildlife safe – and safety is The Pleasanton Police Department's number one goal.
Teaching responsible pet ownership is an important part of public safety. Every interaction with a pet owner is an opportunity to share how to best care for animals. Many of these opportunities come in the form of complaints. If you need the help of the Animal Service Officer please call (925) 931-5100. Please be aware this is for nuisance issues only that do not require immediate attention. If you are reporting an emergency use 9-1-1.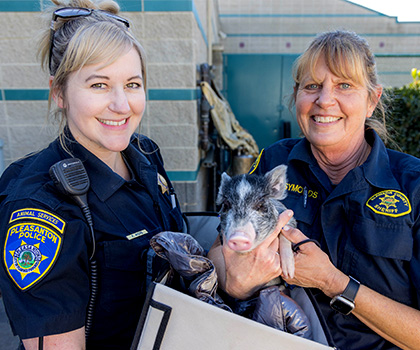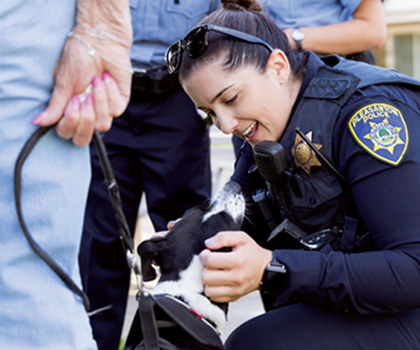 Animal Shelter
Pleasanton's local animal shelter is the East County Animal Shelter.
A joint venture between the Alameda County Sheriff's Office and the cities of Dublin, Livermore and Pleasanton. 
The shelter's main function is reuniting lost pets with their owners and finding forever homes for those animals that are unclaimed.
If you think they have your lost pet, call their Field Services Dispatch at (510) 667-7763.
If you are looking to adopt be sure to check the fee schedule.
The shelter is open seven days a week from 11:30a.m. -5:30p.m. (closed holidays) and is located at: 4595 Gleason Drive, Dublin, CA 94568 (925) 803-7040
Request for Animal Services
Pet owners and animal lovers are passionate about Animal Services. We are too.
Animal control problems can be reported to the Pleasanton Police Department 24 hours a day at (925) 931-5100 (9-1-1 in an emergency).
For more information about our animal services, please refer to our FAQs.
Problems are generally assigned to an Animal Services Officer, however any on-duty patrol officer or Community Service Officer may respond depending on the nature of the call and staffing. Animal Service officers are not on duty on a daily basis.
Should I call the police department if my pet is ill or injured?
How do I report a dead animal?

Dead animals found in a roadway, park or any public place should be reported to the Pleasanton Police Department at (925) 931-5100. If your pet dies, contact your veterinarian to arrange services at your expense or take it to the East County Animal Shelter for disposal.
What is the 'pooper scooper' law?

Pleasanton Municipal Code requires that you clean up after your dog (when in public) by immediately removing any feces left by the animal and disposing of it in a sanitary manner. The code also states that you must be prepared to pick up feces, so carry something with you.

First time offenders may be given a warning, receive a courtesy citation, or be issued an administrative citation. Administrative Citations carry a fine of $100 for a first offense to $750 for the fourth and any subsequent offenses.
Do I have to report an animal bite?

Yes. State law (Title 17.CCR 2606) requires reporting domestic animal bites to the police department. The biting animal must be quarantined for 10 days and a report must be given to the Alameda County Vector Control Services within 48 hours to monitor the animal for rabies.

If you or your pets are bitten by a wild animal, containment and rabies testing of the wild animal is recommended. Since rabies testing involves examination of the biting animal's brain, the wild animal must be euthanized and refrigerated (not frozen) prior to testing. If the biting animal cannot be located, you will be referred to your doctor and you may need post-exposure rabies shots.

Pets bitten by wild animals may need to be quarantined if the wild animal cannot be located for rabies testing. If your pet is currently vaccinated against rabies the quarantine period is one month. If your dog/cat is not currently vaccinated against rabies, the quarantine is six months.
What happens in an animal quarantine?

If an animal needs to be quarantined they must be properly confined in a place where its health can be monitored. This quarantine may be at the animal's home, vet hospital, or the East County Animal Shelter as determined by the Animal Services Officer. This decision is based on several details, including whether the animal is vaccinated against rabies and if the animal can be securely confined at home.
Why should I care about rabies?

Rabies

is a serious disease that can be fatal if untreated. Each year several animals in the Tri-Valley area have tested positive for the rabies virus. The most common carriers of rabies are

raccoons

, skunks, bats and other rodents. Pets that have not been vaccinated against rabies can come down with the disease and pass it on to people or other animals. Pets that are bitten by wild animals are required to be quarantined to monitor for the disease.
How does the Pleasanton Police Department handle barking dogs?

Dog barking is the most common complaint received by Animal Services (Animal Control).The complaints are first addressed by issuing a Courtesy Citationto the dog owner. It's helpful if the officer can speak with the reporting person so they can ask specific questions. The identity of the reporting person is kept confidential in this process. For first time complaints we are simply educating the dog owner and making them aware of the barking problem. The officer will give the dog owner information on dog barking. 

If the complaint is not resolved with Courtesy Citations and education, a citizen may ask that an Administrative Citation be given to the dog owner. This citation is a form of citizen's arrest and requires the signature of the person filing the complaint. This may require the person who filed the complaint to appear before a hearing officer to support the complaint.

Administrative Citations carry a fine ($100 for a first offense to $750 for fourth and subsequent offenses) that must be paid within 30 days from the date of the citation. The dog owner has a right to contest the citation by requesting a hearing. To request a hearing the dog owner must complete a Request for Hearing Form available at the City Clerk's office.
I found a stray animal, what should I do?

Stray or lost/found animals should be reported to the Pleasanton Police Department at (925) 931-5100. An officer will respond to evaluate the animal and the situation. If we can determine ownership we will reach out to the owner in an effort to return the animal. Other animals will be taken to the East County Animal Shelter.
What can I do about feral cats?

The Pleasanton Police Department does not offer trapping services for feral cats (or other problematic wildlife). Humane traps can be purchased or rented through a variety of sources. Trapped cats must be taken to the East County Animal Shelter. When attempting to trap a feral cat please follow these recommendations:

Do not set the trap at night. You are much for likely to trap wildlife if you attempt to trap at night. Wildlife cannot be trapped without a tag number issued by the Department of Fish and Wildlife.
Cover the trap with a blanket or towel to help keep the cat calm. Ensure the trap is protected from the elements.
The trap may only be set on your personal property or with written consent of the property owner and must be checked/emptied a minimum of once daily.
Tell your neighbors that you intend to trap cats so they can keep their cats inside and are wearing proper identification.
Do I have to license my dog?

Yes. The Pleasanton Municipal Code (PMC) states that any person having a dog over four months old shall obtain a dog license for each dog. If the dog is brought into the area after it is four months old, the owner has 10 days to get the license and must continue to be licensed as long as ownership continues (on an annual basis).

Please refer to How to Apply for a Dog License.
What is the leash law in Pleasanton?

Whether licensed or unlicensed, friendly or timid, big or small – all dogs must be on a leash when in public. The Pleasanton Municipal Code prohibits dogs at large. The only exception to this law is for dogs that are herding (more details about this exception are in

the code

).
What can I do about wildlife in my backyard?

If you are experiencing nuisance wildlife problems contact

Alameda County Vector Control

, to evaluate the nuisance. Under state law, nuisance wildlife cannot be relocated. Even when an animal is legally trapped, it must be released onsite or euthanized immediately. There are several requirements that must be met in order to legally trap wildlife under

Title 14.CCR 465.5

(Use of Traps). Since most of these requirements would be difficult for most people to address it's best to work with Vector Control. They offer

information

on non-lethal resolutions and deterrents.

Lindsay Wildlife Museum

is another excellent resource.