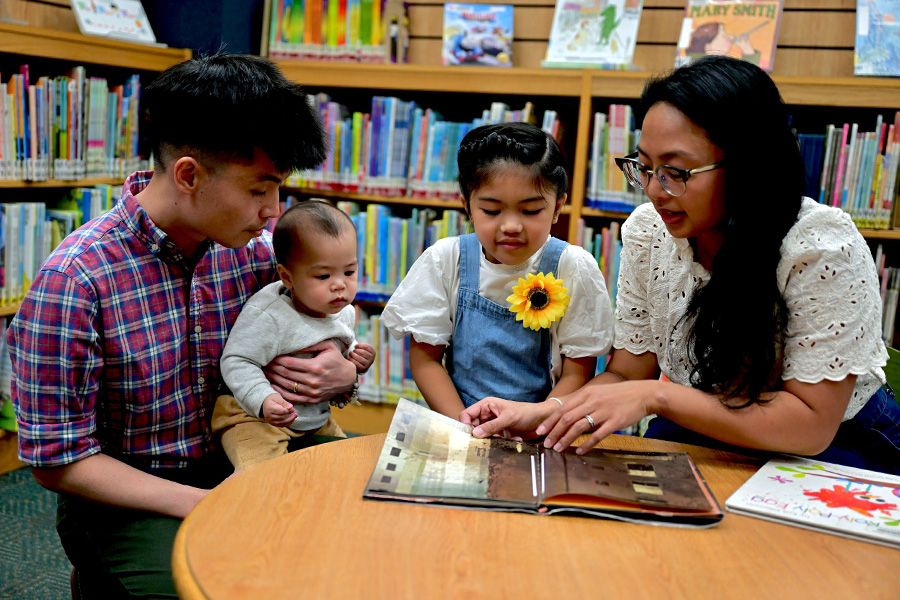 Program Calendar for Kids & Families
View the calendar of events for all ages.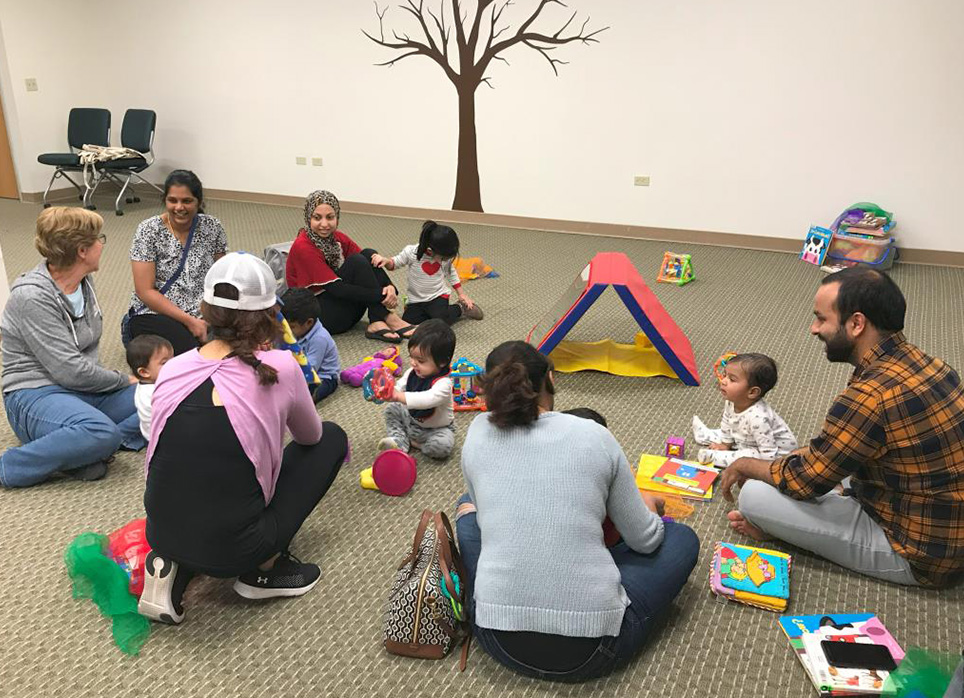 Baby Storytime
Join us for a gentle introduction to stories, songs and playtimes for infants. Best suited for ages 0-24 months.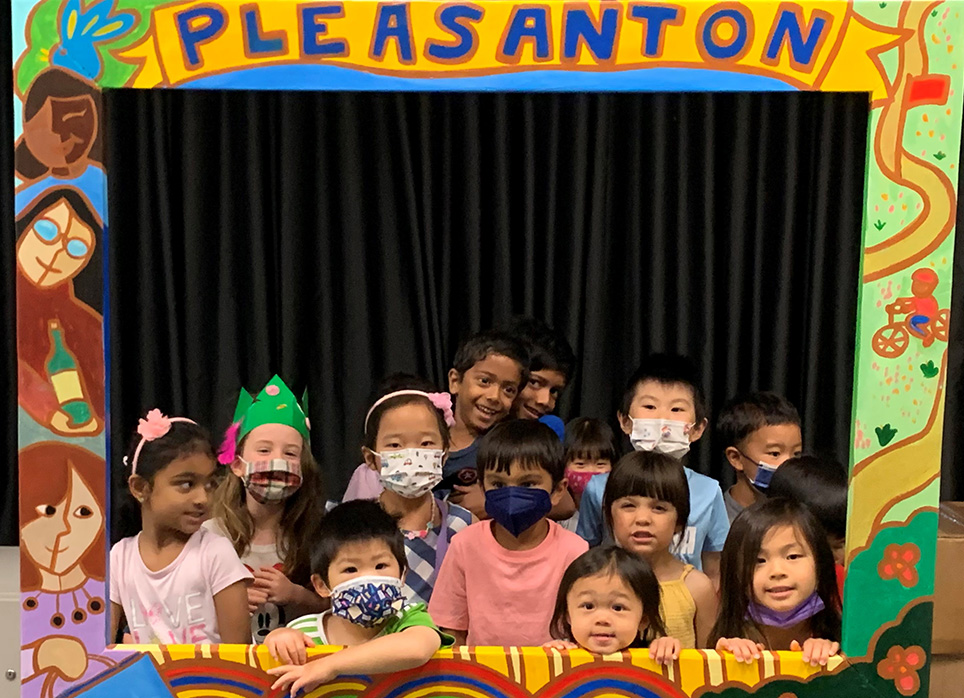 Toddler Storytime
Join the Library for stories, fingerplays and songs! Pre-literacy skills are introduced and books are on display for checkout. Best suited for ages 2-5 years.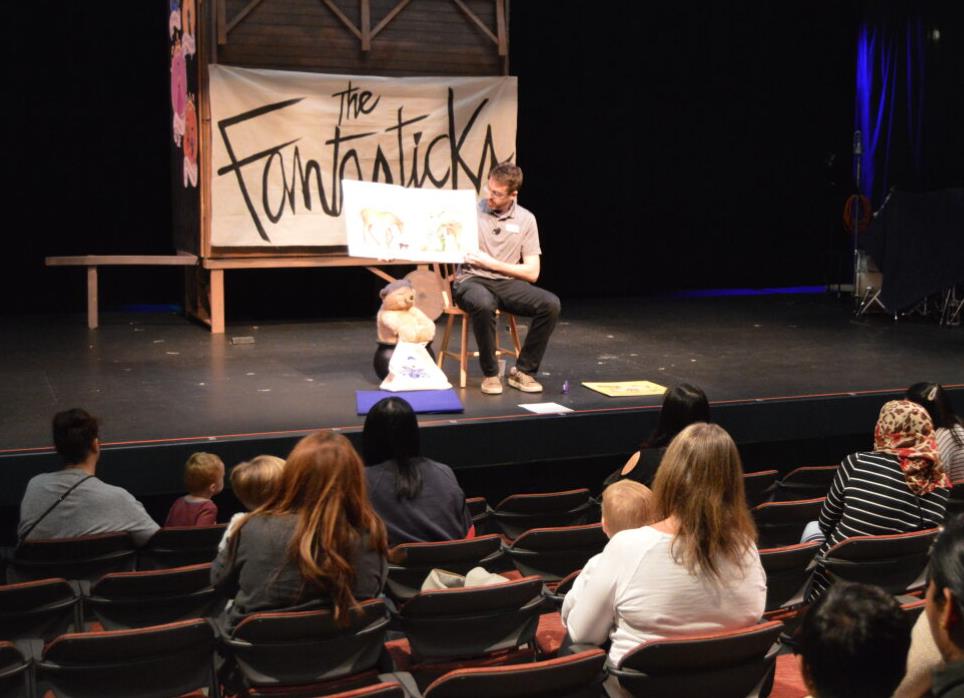 Family Storytime
Join us for a storytime for all ages of children and their families with stories, music and more!
Paws to Read
Paws to Read provides children in grades 1-5 the opportunity to read to comfort canines, certified by the Valley Humane Society of Pleasanton.
Two 25-minute reading sessions are offered select Tuesday evenings throughout the year
Check the Paws to Read flyer or the online Programs and Events Calendar for specific dates and times
Click here for Winter 2024 Paws to Read information.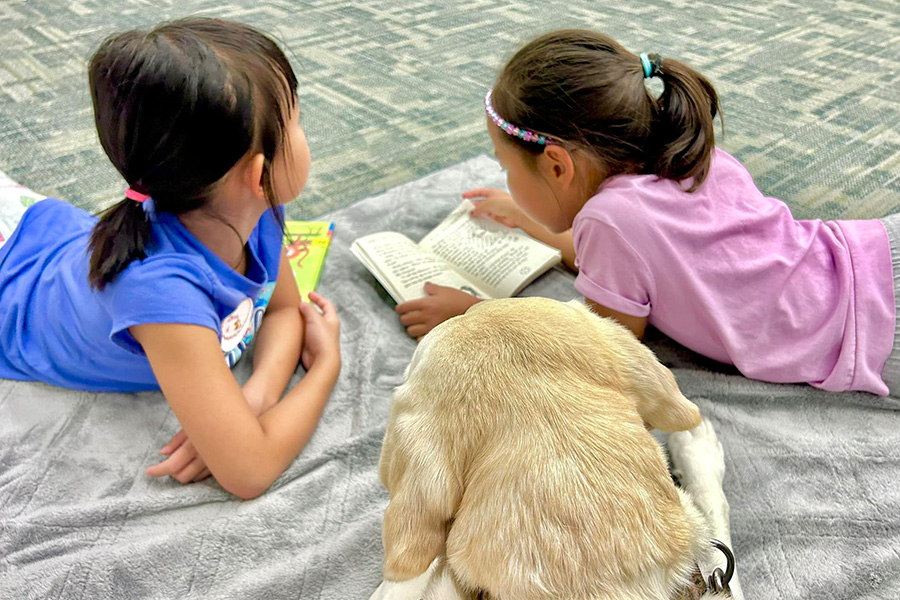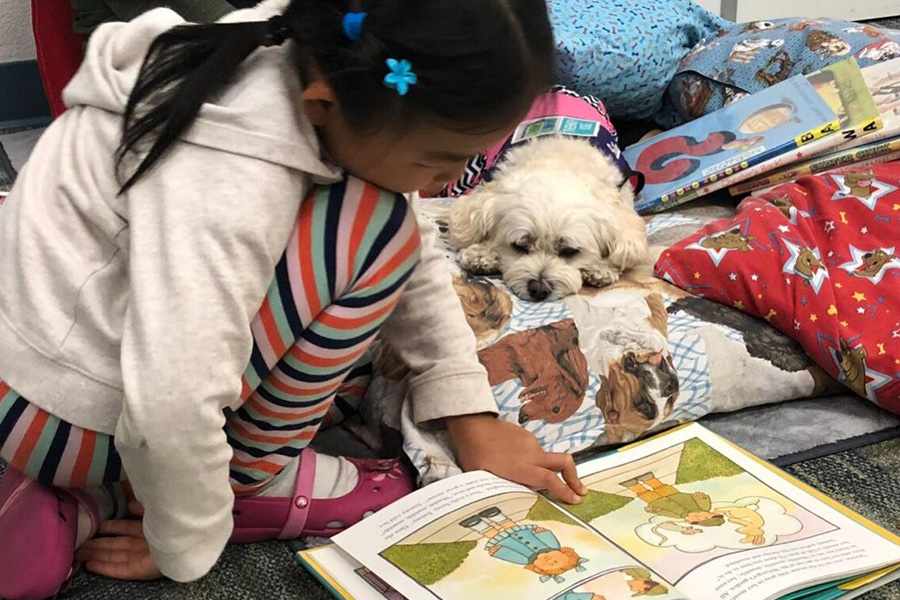 ABCmouse
Designed especially for kids ages 2-8, ABCmouse offers 8,500+ activities that teach reading, math, science, health, social studies, art and music. ABCmouse makes learning fun and exciting and it teaches children through books, games, songs, puzzles, videos and more!

Have your Library Card Number and PIN ready and follow these steps to sign up for a new ABCmouse account:
Go to the ABCmouse website.
On the next page, click the red banner link that reads "Check Out Account."
Enter your information on the next three pages to complete your registration
Parents can track and save the progress of up to three (3) children with an account. For more information, download the "ABCmouse Quick Guide" below.
Number of Checkouts: The Library is able to offer ten (10) four-week check outs at a time. If you're unable to check out an account, you will receive an email notification and will then be directed to the Waiting List page.
You will receive another email notification once an account becomes available.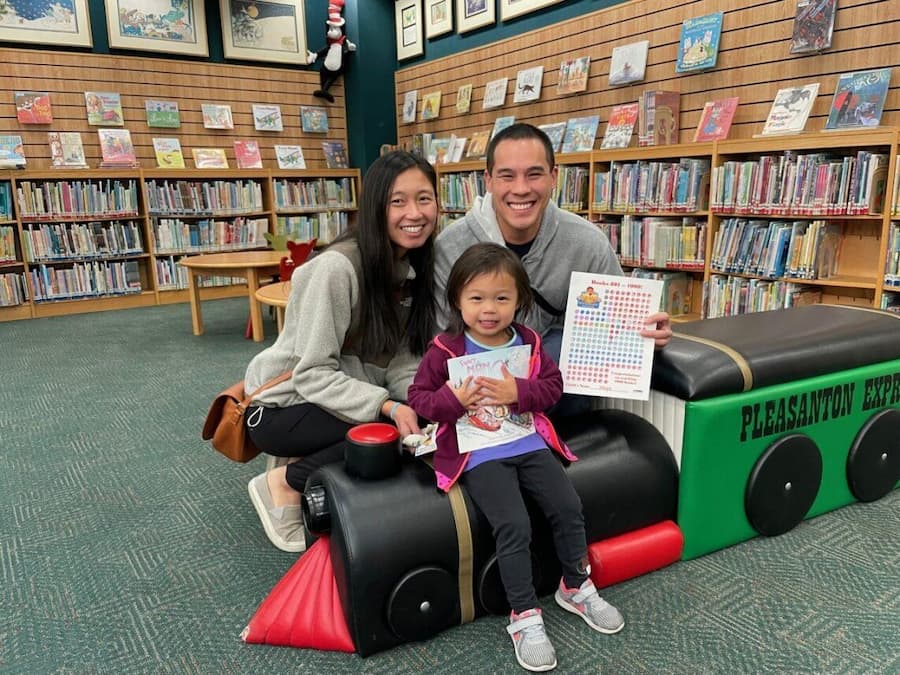 1,000 Books Before Kindergarten
Read 1,000 books with your child before they enter Kindergarten! It's fun and easy – and Pleasanton Library is here to help. The concept is simple and the rewards are priceless. Earn bookmarks, stickers and a free book while enjoying reading together. The program is designed for pre-Kindergarten children and is open to newborns, infants, toddlers, preschool and transitional kindergarteners.
Visit the Pleasanton Library Children's desk to sign up and pick up your first Book Log!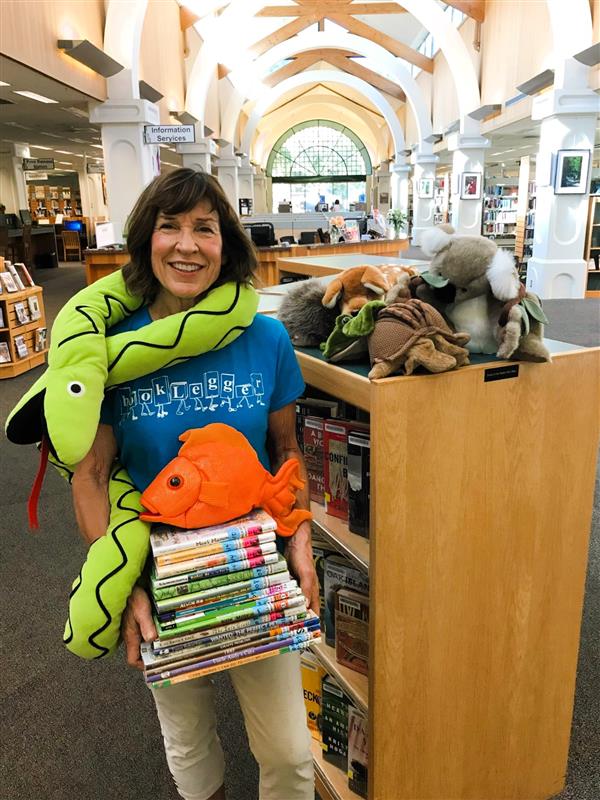 Booklegger Program
Bringing Together Books, Students and Libraries…
Booklegger is a cooperative program between the Pleasanton Public Library and the Pleasanton Unified School District. Booklegger volunteers visit PUSD classrooms to read stories, share book talks and provide lists of suggested books for students, curated to each grade level K-8. We believe that introducing lively, interesting and diverse books to children of all ages will contribute to the success and achievement of Pleasanton's youth and build a connection to the Pleasanton Library.
What a Booklegger Volunteer does:
Participants attend 20 hours of training: 2.5 hours per week for eight weeks. We currently do not have a date for the next training. Please contact the Booklegger Coordinator at the email address below to be notified when the next training session has been scheduled.
After training, volunteers are asked to visit 6-12 classrooms twice each year for at least one school year.
Volunteers visit classrooms in grades K through 8 giving 30 to 45 minute book presentations.
Presentations may include short booktalks, reading aloud and simple science or craft demonstrations.
Volunteers select books for their programs from the Booklegger Collection.
The program is very flexible: Bookleggers determine the dates and times of their school visits.
Booklegger volunteers make an important contribution to the educational enrichment of Pleasanton children. However, our volunteers say that the best reward is the joy and enthusiasm of the children and their teachers.
For more information, contact us.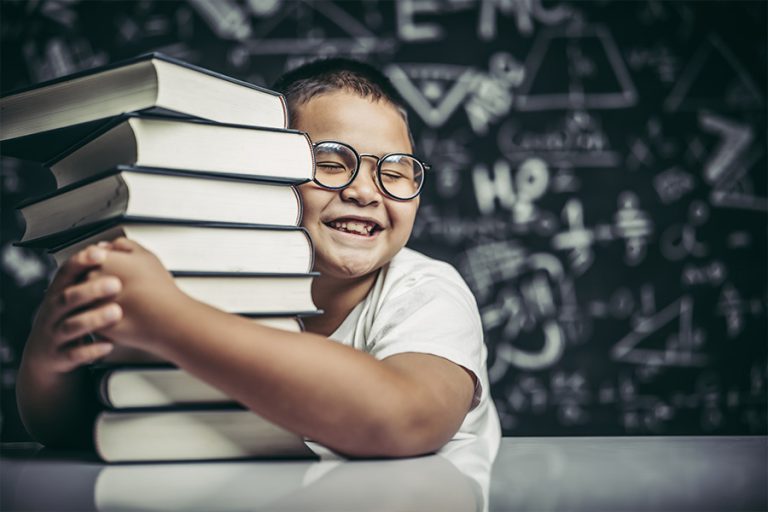 Field Trips
Teachers may schedule a 3rd Grade Field Trip from 10 a.m. – 11:30 a.m. either on a Tuesday, Wednesday or Thursday. Enjoy a tour, stories, scavenger hunt and learn how to use the self-checkout machine!
Field trips are designed:
To introduce children to their library
Familiarize with library resources and the Dewey Decimal System
Encourage participation throughout the year, at special events and during the annual Summer Reading Program
Field trip activities include:
A tour
Entertaining stories
Free time to look for books and check out materials
Pleasanton teachers are invited to contact us to schedule class field trips.