Recreation for Adults With Developmental Disabilities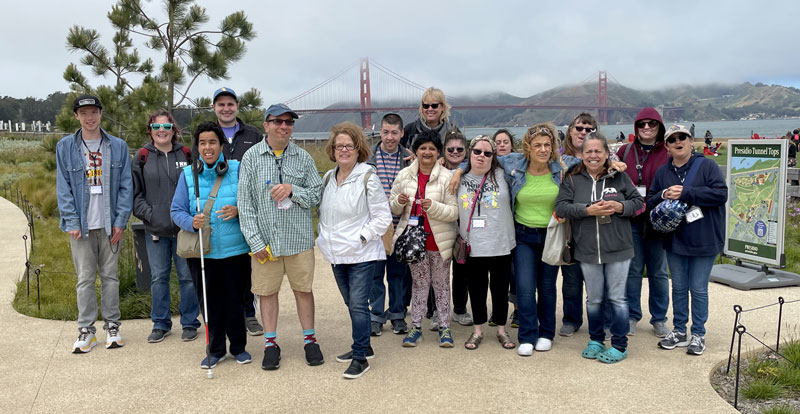 Recreation for Adults with Developmental Disabilities (RADD) is a special recreation program designed for people ages 15 and above with developmental disabilities. RADD's mission is to provide equal opportunity for personal growth for individuals with developmental disabilities through recreational activities and community involvement.
If you have any questions, please contact us.

Inclusion Services
The City of Pleasanton Library and the Recreation Department invites people with and without disabilities to enjoy our sites, facilities and programs. For more information about inclusion services, please visit our Inclusion Services page.
Participation
All new participants must complete and submit for approval the following forms before participating in any RADD program:
Participants must be 15 years of age or older. Residents and non-residents welcome.
Have the ability to participate appropriately and safely in a 1:6 staff to participant ratio.
A care provider must attend with participant if they are unable to eat or use the restroom with minimal supervision or require special medical attention.
Activity Registration Information
Pre-registration and payment is required for all activities. Limited space is available.
Drop-ins are not allowed.
Register for programs 3 times a year in January, April and August.
Visit the RADD section for the list of current offerings and to register.
If you need help registering, please come by the Pleasanton Senior Center or call the RADD office at (925) 931-5373.
Refund Policy: If you wish to withdraw from a class by 4:30 p.m. the Monday before an event, a full refund or credit can be issued. If the cancellation is after Monday but before 4:30 p.m. on Wednesday before the event, a credit only can be issued. If cancelation is after the Wednesday before an event, no refunds can be issued.
RADD Reach Scholarship
REACH offers a scholarship program for people ages 15 years and above with developmental disabilities that would like to participate in the City of Pleasanton's RADD Program but may not have the financial means to do so. Participants who meet requirements are eligible to apply for the 
REACH Scholarship
.
Recreation for Adults with Developmental Disabilities (RADD)
5353 Sunol Boulevard
Pleasanton, CA 94566
(925) 931-5373
Contact us by filling out the form below: