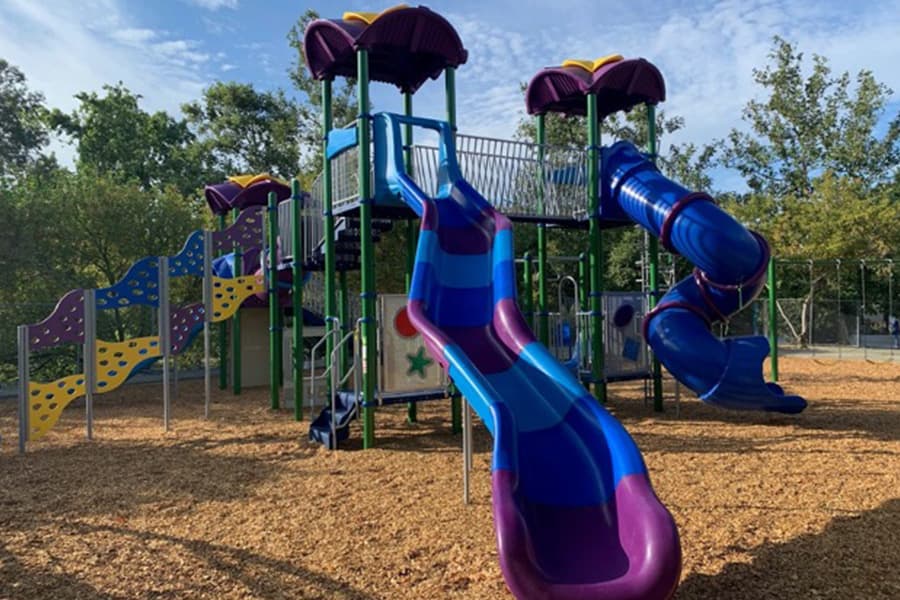 The Public Works Department provides high-quality essential services that improve and maintain public infrastructure to protect and enrich the lives of our residents.
The Customer Service and Billing Division provides Administrative and Financial support along with Customer Service for the entire Public Works Department.
Engineering designs and constructs public facilities and reviews public improvements constructed by private property development.
The Environmental Services Division provides oversight of a variety of environmentally responsible areas.
The Operations & Maintenance Division is responsible for the maintenance of all publicly owned structures, streets, traffic signs and all City vehicle and equipment units.
The Parks Maintenance Division maintains over 385 developed acres of parkland at 46 park sites and 1016 acres of open space which includes 23 miles of trails.
The Utilities Division is responsible for recycled and potable water, sewer and storm drain systems.
Customer Service & Billing
The Customer Service and Utility Billing Division is the communications hub for the Public Works Department. Customers can pay their Utility bills, obtain a dog license and report any operations or maintenance issues related to City-maintained sites including water, sewer, streetlights, signs and parks. All service requests for Public Works are initially handled by this Division. There are approximately 22,600 utility billing customers.
The Customer Service and Utility Billing Division is located at 3333 Busch Rd in Pleasanton and the operating hours are Monday through Friday from 7 a.m. to 4 p.m. For more information, please contact us at 925-931-5500. For after hours emergencies contact non-emergency Police dispatch at 925-931-5100. 
Engineering
Engineering designs and constructs public facilities and reviews public improvements constructed by private property development. The Landscape Architecture Division works with the public and other City departments for the construction of new park projects, renovation of existing parks and other landscape replacement projects on City property.
Engineers on Duty (EOD) are available to answer questions and assist with any issues related to the Engineering Division.
EOD Service Hours
Qualified engineers are available to serve walk-in customers without the need to make an appointment at the City offices located at 200 Old Bernal Avenue. Staff is available in person Monday through Friday, 9 a.m. to 4 p.m. and available by phone 8 a.m. to 5 p.m.
Residents can obtain encroachment permits, flood zone information, lot and tract maps, bid packages and can discuss general concerns pertaining to the City utility infrastructure at our service counter.
Environmental Services
The Environmental Services Division provides oversight of a variety of environmentally responsible areas, including recycled water connection and ongoing regulatory compliance, water conservation and education, Clean Water Program outreach, backflow protection program, industrial and storm water inspections, National Pollutant Discharge Elimination System permit reporting, surface water permitting, air emissions, hazardous materials management and under/aboveground storage tank compliance.
Backflow Protection Program

Backflow Administration 
According to the State of California Health and Human Services Agency, Department of Health Services:

"The California Code of Regulations (CCR), requires public water systems to protect their water supplies from contamination by implementing a cross-connection control program. The scope of a comprehensive cross-connection control program must include provisions for the protection of the drinking water supply through the installation of appropriate backflow prevention assemblies at all water user's connections where a hazard or potential hazard to the water supply is identified by the public water system (Title 17, Section 7584)."

The Backflow Administration Program:

Ensures annual testing is completed for all commercial and residential devices in the City of Pleasanton.
Provides necessary testing paperwork and information to customers with devices.

The City annually invoices a $60 per device administrative fee to maintain this program for the community. If devices are not tested in accordance with State laws and regulations, enforcement is taken and the customer's water service may be discontinued. Pay the administrative fee to your tester, who will forward it to the City's program administrator, Aqua Backflow.

Find out if your backflow preventer is due for a test! 

For additional information on test due notice, failed devices, list of approved testers, tester registration, or change of address, contact Aqua Backflow at (847) 742-2296.
Fats, Oils and Grease (FOG) Program

Commercial Requirements 
Improper disposal of fats, oils and grease (FOG) from cooking creates problems for both business owners and City of Pleasanton maintenance crews if the sewer system plugs. 

Food service establishments must install either a grease interceptor or trap. (A variance must be granted by the City prior to the installation of a grease trap instead of an interceptor.) See Section 15.44 of the Pleasanton Municipal Code for regulations on Fats, Oils and Grease.
Grease interceptors shall be inspected at least monthly and maintained to ensure no collection system blockage but at a minimum once every two months.
Grease traps shall be inspected and maintained no less than bi-weekly.
Inspection/maintenance records shall be kept for at least two years and submitted to the City by 6/30 and 12/31 of each year. (A sample maintenance log is available here.)
Use only a State-registered Transporter of Inedible Kitchen Grease to service your grease removal device.

Residential Requirements
Fats, oil and grease are present in many items. Cooking oils, condiments made with oils, meat juices and fat are examples.

Do not pour FOG down the drain. Doing so will clog sewer pipes.
Place FOG in a disposable container and dispose of it in the garbage.
Place all food scraps in the green waste recycling cart where they will be processed into rich compost material for gardening, landscaping and farming.
Fleet Division
Empowering Efficient Mobility
Efficiency and mobility converge in the Fleet Division, responsible for overseeing a diverse fleet of over 300 vehicles and 150 equipment units serving various city departments. Our unwavering commitment to CARB compliance contributes to a cleaner environment, while our procurement proficiency ensures the perfect match of vehicles to their intended roles. From repairs to surplus management, our dedicated team handles it all. Furthermore, we take pride in managing Basic Terminal Inspection and DMV registration for all city-owned vehicles and equipment, guaranteeing compliance and optimal operational efficiency.
Greener Choices for Sustainability
At the Fleet Division, we strategically determine the useful life of city-acquired vehicles and equipment through the Repair & Replacement Fund (R&R). As fuel expenses represent a significant portion of fleet costs, we prioritize greener alternatives to reduce these expenditures. The adoption of green fleet vehicles not only minimizes or eliminates fuel consumption but also leads to substantial savings. Whenever a vehicle or equipment is acquired, greener options are thoughtfully explored. These alternatives can encompass smaller vehicles, engines, or alternative fuels such as electric, hybrid, natural gas and hydrogen-powered vehicles. While prioritizing sustainability, the final choice always aligns with the practical needs of the end-user, ensuring operational effectiveness for the City.
Join us in our commitment to enhancing public spaces and optimizing mobility. By focusing on excellence, sustainability and operational efficiency, we aim to create a more vibrant and environmentally conscious city for all.
Operations & Maintenance
Facilities Division
Elevating Community Spaces
The Facilities Division is responsible for maintaining and enhancing over 139 publicly owned structures spanning more than 500,000 square feet of office, public and maintenance spaces. From iconic venues like the Firehouse Arts Center and the Museum on Main, the commitment is to provide well-kept, func onal spaces where the community thrives. The comprehensive scope includes custodial services, renovations, HVAC systems, pest control, electrical and plumbing systems, locksmithing, carpentry, painting and drywall, as well as the intricate chemistry and pump systems of pools and fountains. Behind the scenes, expertise shines through in managing office reconfigurations and vital repairs, ensuring the seamless functioning of the city.
Streets and Signs Division
Enhancing Mobility and Safety
Paving the Path to Quality Infrastructure
The Streets and Signs Division takes pride in ensuring smooth and safe transportation across the city through meticulous maintenance and repair initiatives. From repaving streets to maintaining critical signs and signals, our commitment to excellence drives every action.
Street Rehabilitation and Maintenance
Navigating through the city becomes a seamless experience, thanks to our dedicated team's efforts. We undertake comprehensive maintenance and repairs for asphalt and concrete structures. Our expertise extends to streets, sidewalks, sound walls and parking lots, ensuring your journey is comfortable and hazard-free. 
Street Sweeping for a Cleaner Tomorrow
A cleaner city is everyone's pride and our Street Sweeping program reflects this sentiment. The Streets Maintenance Division oversees the contract for regular street sweeping, keeping Downtown Pleasanton Business District streets, City parking lots and other areas pristine. Scheduled on specific days each month, this process relies on your cooperation by moving vehicles on sweeping days. For your Street Sweep day, visit our dedicated Street Sweeping page.
Navigating with Clarity: Signs and Signals
The Sign Shop team plays a crucial role in your safe and informed travels. From crafting, installing and maintaining traffic control signs to providing signage for city events, our attention to detail shines through. Curbs, pavement lines and legends on the city's streets are skillfully painted to enhance clarity. Every year, the iconic red, yellow and green curbs, along with city parking lots, receive a fresh coat of paint, ensuring you always find your way.
Illuminating Pathways: Street Lights
Our responsibility extends beyond roads and signs—we also manage the contract for street light maintenance and repair services. Ensuring well-lit streets enhances safety and security, making your journeys even more reliable.
Join us in our commitment to enhancing mobility and safety in our city. Through comprehensive maintenance, attention to detail and a dedication to excellence, we aim to create a more seamless and secure urban environment for all.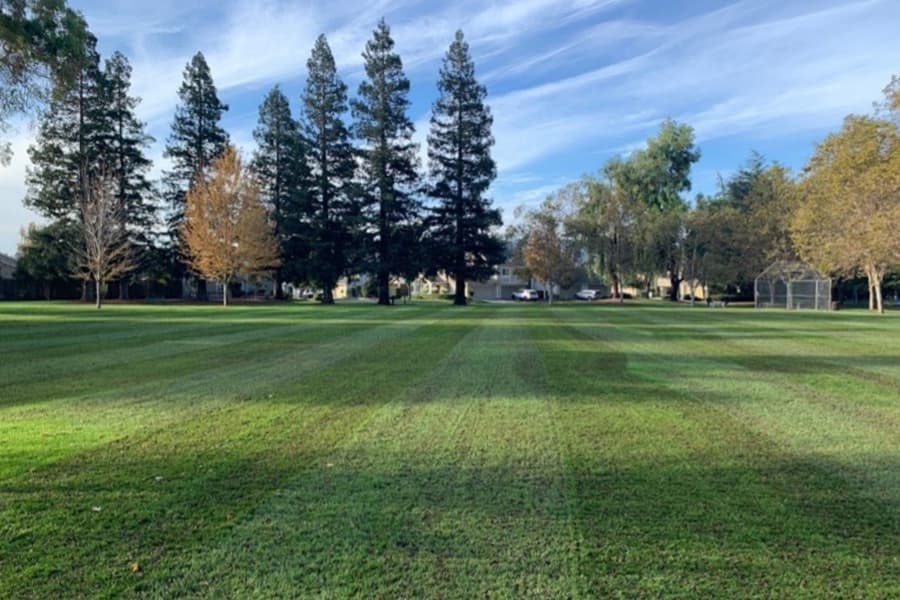 The Park Maintenance Division maintains over 385 developed acres of parkland at 46 park sites and 1016 acres of open space which includes 23 miles of trails. In addition, our 31 staff members maintain and repair the sports fields, tennis, basketball and pickle ball courts, dog parks, and picnic and play areas. The division is also responsible for the maintenance of:
City street trees

The City is responsible for approximately 26,000 trees. 
City owned street medians

The City maintains 85 acres of medians which is about 40% of all medians in the City. 
City facility landscapes

The City maintains landscapes around City facilities including Museum on Main, Library, Senior Center, City Hall, Operations Service Center, Veteran's Memorial Building, and various City owned parking lots. 
City's Urban Forest Plan

The City is currently in the process of developing a 25-year Urban Forest Master Plan. Click here to take the Urban Forest Master Plan Community Survey.
Pleasanton Pioneer Cemetery
City weed abatement areas

The City is responsible for annual weed abatement for City owned undeveloped parcels, open space and various streetscapes. Weed abatement helps with managing Fire Hazards in open space. If you have questions regarding weed abatement on private property, please contact LPFD at 925-454-2361. If you have questions regarding weed abatement on City property, please contact Public Works at 925-931-5500.
Utilities
The Utilities Division is responsible for potable and recycled water, sewer and storm drain systems:
Providing a high quality and dependable potable water supply to the residents and businesses of Pleasanton
Maintaining the City's sewer system, which consists of 239 miles of sewer main
Providing 24-hour storm drain maintenance services for the community to protect the storm drain system, creeks, arroyos and other waterways from becoming polluted
Recycled water, for more information on Recycled Water Program
Water System
Bacteriological & Water Quality
Sampling
Computerized Control (SCADA System)
Distribution Stations & Storage Facilities
Home Service Line
Sewer System
Cleaning Lines & Video Inspection
Construction
Pump Stations (Monitoring, Underpass, etc.)
DSRSD Treatment Facility
Odor Hotline
Sewer System Management Plan